Office Printing Solutions
As the workplace transitions into a new era, there is a fantastic chance to assess and evolve your office printing solutions to fully support digitisation, information mobility, and new ways of working.
Organisations that embrace change and prioritise their business and digital transformation strategies will outpace their peers in the new world of work. Collaboration, cloud and digital document workflow sit at the heart of that approach. That's where a modern office print solution or managed print service can make a real difference.
Today's print devices aren't just tools for output. Printing solutions are centralised hubs of activity that support your entire organisation and accelerate business-critical processes. Every office needs them – and now they also need to serve blended work practices and a flexible workforce at multiple locations.
But what should you look for in a modern office print solution?
Good return on investment
A major factor in any business decision for printing solutions is cost, and that's no different when it comes to your office print. But that doesn't mean you should just pick whatever has the lowest price.
Look to work with an agile partner – one who will provide an office print solution that fits your exact needs. Look for transparency, so you know exactly what you are paying for. And look to the future – the best modern solutions can adapt and scale to meet new demands.
Improved productivity
Office printing solutions are one of the mainstays of office life, accessed regularly by your people from across your organisation. So, it's vital that your printers are effective, efficient and reliable.
When you look for a new office print solution, make sure it delivers on quality, performance and customisation. And make sure it delivers innovations such as integration with the cloud – an especially important feature for flexible workforces.
Security you can depend on
As a vital part of your organisation, you need an office print solution that is safe, stable and secure. Especially if a more flexible workforce is placing extra demands upon its security features.
Security isn't just about protecting your data, it's about protecting your people. Look for an office print solution that keeps each individual's documents private, that automates tedious tasks in a secure but efficient way, and that updates itself with the latest software to protect against potential cyber-attacks.
---
Feature – Is your existing printer the best solution for your organisation now?
Click to read our latest advice, and discover more information and guidance.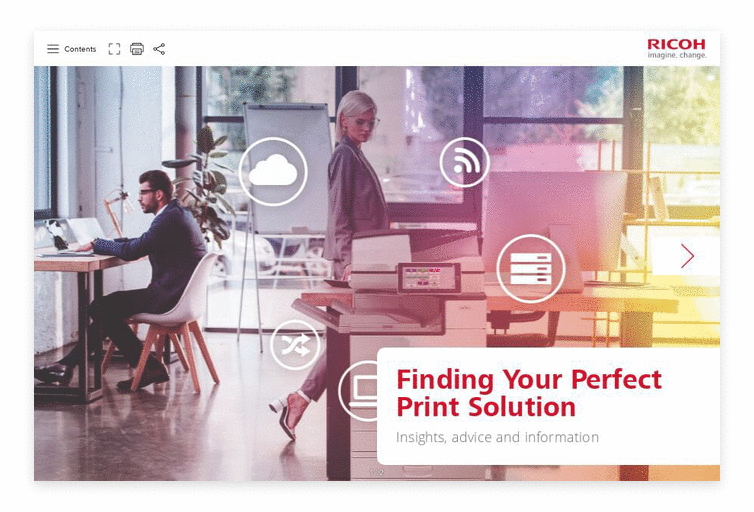 ---
Responsive customer support
No matter how big your organisation is, being able to receive quick, kind and efficient customer support is crucial in getting the most out of your office print solution.
It all starts by working with a people-first partner, one who can deliver what your business needs at scale while also providing local and responsive support. This way, they can have their finger on the pulse of your problems and provide quick and easy answers.
Responsible sustainability
Good sustainability is more important than ever. Both for better business decisions and in the public conscience. And your office print solution is a good way to influence your carbon footprint and lower your operating costs.
You can also greatly reduce the amount of paper used throughout your organisation by installing the latest multi-function printers – turning ponderous paper trails and tedious tasks into efficient digital processes.
The latest innovations
Innovation is at the core of every successful business. And since your print solution is at the beating heart of your office, it's important that innovation is a key consideration when choosing the right product for you.
We're working in a world that's constantly evolving, so your office print solution needs to adapt to new changes too – for example, flexible or remote working.
Your perfect office printing solution starts with your perfect print partner
When it comes to deciding which office print solution is right for your organisation, one of the most important choices you'll make is which partner to work with.
Look for a people-first partner that values what you value; whether that be a solid return on investment, sustainability, innovation, customer service, security, or productivity. And then work collaboratively to install and integrate an efficient and effective office print solution that's perfect for your business.
Contact us to discover how to source the right office print solution for your organisation.
Reproduced from insights.ricoh.co.uk